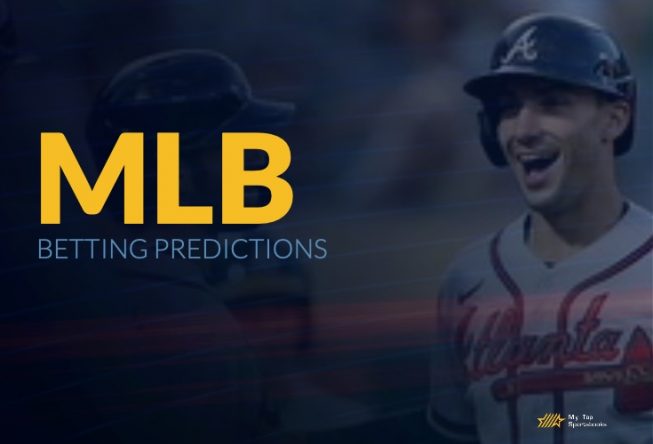 • Atlanta Braves vs. San Diego Padres
• Saturday, April 8 at 7:20 PM ET
• SunTrust Park in Atlanta, Georgia
One of the more intriguing matchups we should see in the National League this season will be when the Atlanta Braves and San Diego Padres face off. Both of these clubs are hoping to win their respective division titles, but they're also ready to make a huge splash once the postseason arrives as well. With these clubs meeting for a weekend series, countless eyes will be on Saturday's matchup. In that one, the Braves are favored to beat the Padres with Charlie Morton pitching.
Morton's first start of the year didn't go according to plan in terms of runs allowed, but he was still able to record a win last week. How did that happen? Because the Braves' lineup is so deep, they were able to provide him with great run support. Morton is a fantastic starting hurler, and when he's on his game, life is tough for the opposing hitters trying to record something special off of him.
Morton will need to bring his best this weekend, as the Padres have loads of sluggers on their roster. Guys like Juan Soto, Manny Machado and Fernando Tatis Jr. are the main superstars for San Diego, which has their fans excited about how things could play out this season. San Diego has high hopes, but Atlanta is going to try and top them whenever they go to battle as well. So, how will this one turn out?
According to the best-rated sportsbooks, which includes the reliable Bovada review, the Braves hold -115 MLB betting odds to win on Saturday, while the Padres have been set at +155. Morton is going to want to remind people of how great he is on the bump, and posting a great start vs. the Padres would do just that. San Diego has an upset on its mind, but we don't think that will happen. We're going with the Braves as our pick.
Break out the brooms!#ForTheA pic.twitter.com/lMvV1LIrfE

— Atlanta Braves (@Braves) April 5, 2023
The Atlanta batters will hope to have a field day vs. San Diego
In this one, the Atlanta batters will hope to have a field day vs. San Diego on Saturday night. Atlanta has looked like one of the best teams in the bigs in the first week of the campaign and we don't have to tell you that the offense has powered things. Time and time again, Matt Olson, Ronald Acuña Jr., Austin Riley, Marcell Ozuna and others have stepped up with a timely hit for this squad.
Acuña is easily one of the top outfielders out there and he is back to full health after suffering his torn ACL a few years ago. When Freddie Freeman ended up signing with the Los Angeles Dodgers before last season got underway, people all over Atlanta were depressed. However, bringing in Olson via the blockbuster trade was a fabulous decision by the front office. Olson is ready to ball out the rest of the way in '23.
Matt Olson leading the world in homers since spring training started. pic.twitter.com/Utb6U5dcDo

— Jared Carrabis (@Jared_Carrabis) April 5, 2023
In the recent series sweep against the Cardinals, Olson was a beast at the plate, showcasing his power against the St. Louis pitchers. Going up against the Padres, Olson is ready to do more damage. Atlanta supporters will be hoping that he can blast a home run or two, with Saturday feeling like a great chance for him to do so. The Padres will be sending out Michael Wacha, who has a 6.00 ERA.
Per the oddsmakers, the over/under has been set at 7.5 runs. Both Wacha and Morton gave up more runs than they wanted to in their first starts of the season. While we think that Morton will be able to regroup this weekend and perform well vs. the Padres, we don't think that the same will be able to be said for Wacha. With that said, we like the -110 odds for the over to hit, which is what we're picking.
The Braves should go on to win the NL East
Looking ahead to the future, the Braves should go on to win the NL East. It wasn't long ago that this team won the World Series, doing so in stunning fashion. The Braves looked sharp last year too, but they weren't able to get back to the Fall Classic. That's their top goal for this season, and Atlanta has impressive World Series betting odds. Before talking about the postseason, though, Atlanta will need to be steady in the regular season.
Fortunately, the oddsmakers think that the Braves will be able to hold off both the Mets and Phillies to win the division. New York made a big splash during the offseason by bringing in Justin Verlander. As for the Phillies, sluggers Kyle Schwarber and Bryce Harper are always fun to watch.
The Braves know Philly and NY will be ready to make a push, but Atlanta's rotation will only get stronger when Mike Soroka is able to get back on the bump. This could prove to be a memorable year for the Braves – they have the talent to go far in 2023, no doubt about that.