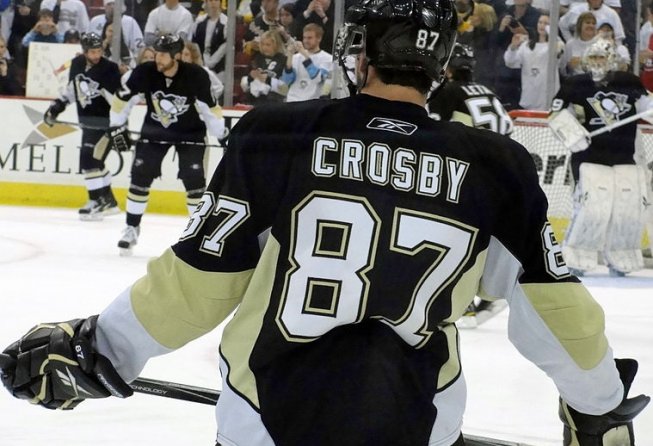 Sportsbooks are high on the Predators and Lightning heading into the 2018 postseason.
What are the real chances for each playoff team to win the Stanley Cup?
Could the Penguins really win three straight?
---
The biggest and best sports betting sites have released their final 2018 Stanley Cup futures, and the results are somewhat predictable.
Last year's runner-up, the Nashville Predators, are the co-favorites after winning the President's Trophy.
The Eastern Conference champions, the Tampa Bay Lightning, join Nashville at the top, while the Wild Card teams (Columbus, New Jersey, Los Angeles, and New Jersey) are some of the biggest longshots.
BetOnline's sportsbook had the following futures odds available as of this morning:
The odds above carry the following implied probabilities:
Nashville Predators +475 =17.4%
Tampa Bay Lightning +475 = 17.4%
Pittsburgh Penguins +800 = 11.1%
Winnipeg Jets +800 = 11.1%
Boston Bruins +900 = 10%
Vegas Golden Knights +900 = 10%
Washington Capitals +1200 = 7.7%
Toronto Maple Leafs +1400 = 6.7%
Anaheim Ducks +1600 = 5.9%
Los Angeles Kings +2200 = 4.3%
Minnesota Wild +2500 = 3.8%
Columbus Blue Jackets +2800 = 3.4%
San Jose Sharks +2800 = 3.4%
Philadelphia Flyers +3300 = 2.9%
New Jersey Devils +4000 = 2.4%
Colorado Avalanche +5000 = 2%
Cumulatively, those implied probabilities add up to 119.5%, which is why the house always wins, as they say. But savvy bettors can still find value on the board.
Here's how our in-house experts grade each team's chances of winning the cup. The teams in bold are the ones whose implied probability is higher than the corresponding probability at BetOnline.
Nashville Predators: 13.3% (+650)
Pittsburgh Penguins: 12.5% (+700)
Tampa Bay Lightning: 11.1% (+800)
Boston Bruins: 9.1% (+1000)
Winnipeg Jets: 8.3% (+1100)
Washington Capitals: 7.7% (+1200)
Vegas Golden Knights: 7.1% (+1300)
Anaheim Ducks: 5.3% (+1800)
Toronto Maple Leafs: 5.0% (+1900)
Los Angeles Kings: 4.8% (+2200)
Columbus Blue Jackets: 3.4% (+2800)
New Jersey Devils: 3.2% (+3000)
Minnesota Wild: 2.7% (+3600)
Philadelphia Flyers:  2.6% (+3800)
San Jose Sharks: 2.6% (+3800)
Colorado Avalanche: 1.4% (+7000)
As you can see, Tampa Bay takes the biggest hit. They are less than 100% entering the postseason; they played their worst hockey of the year down the stretch; and they went 0-2-1 in the regular season against New Jersey, their first-round opponent.
No team takes a massive jump, but the defending champion Pittsburgh Penguins move up the most. While no team has won three straight cups since the early 80s Islanders, Sidney Crosby and Evgeni Malkin have three rings on their fingers for a reason: they comprise the most potent one-two punch in the league.
Add in the experience of Matt Murray in net, a still-strong supporting cast led by Phil Kessel and Patric Hornqvist, plus a somewhat underrated D corps that will have the services of Kris Letang this time around, and you have a recipe for the unprecedented.