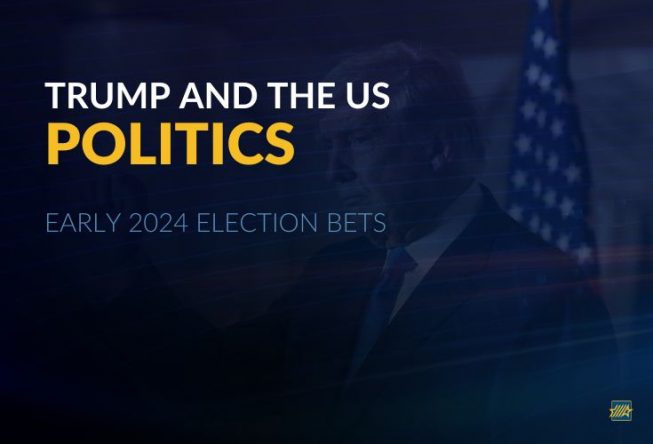 Joe Biden (+191) is still the favorite to get a second term as President of the United States. 
However, Donald Trump (+265 – overall) is a favorite to win the Republican Part nomination.
With the Republicans a -125 favorite to win the Presidential Election, that indicates a shift to a new favorite.
The 2024 political cycle gets underway in earnest soon enough. However, it never hurts to speculate on what may happen next when it comes to the Unites States and politics. Bettors are pumped for election season and we have a few nice US Presidential Election Bets. Expect lots of fire, brimstone, rhetoric, and plenty of jabs in this contentious race to the White House.
So, the best online betting sportsbooks have just released the latest odds on who could become the next President. Below, we present some of the contending picks and maybe one or two that could surprise during this cycle. Keep in mind, the general election is still more than 20 months away.
US Presidential Election Bets – Is Donald Trump Still Great?
So, this edition of the US Presidential Election Bets asks one simple question. Is Donald Trump still great? The answer lies in the eye of the beholder. However, one thing is crystal clear. Anyone that comes at the 45th President best swing something that sticks. Everything from Russia collusion to other indictments has barely phased the former President. If anything, what does not kill him keeps making him stronger.
Trump's latest indictment delivered on Friday from a New York City Grand Jury possesses some holes in it as well. If the Federal government passed on pursuing this, that may be a sign.
'He had it coming': World media react to Donald Trump's unprecedented indictment – as headlines question strength of American democracy, risk of violent unrest and even whether charges will 'strengthen' election bid pic.twitter.com/6FCrX3Fcbe

— News News News (@NewsNew97351204) March 31, 2023
The reactions of such an indictment add into the fact that Florida will not help extradite Trump in any way. Again, the overall divisive nature in this country dictates politically motivated moves. Whether one agrees with the former President's policies is one thing. On the other hand, this risks again making Trump stronger and could buoy a third run at the White House.
Trump is a favorite pick despite his abrasive style. This may feel strange but with him you know what you are getting. Joe Biden looks like he is handled everywhere. For better or for worse, Trump is his own person. He runs the ship his way. Trump may be his own worst enemy, but again one knows what they are getting.
Republican Or Democrat – Some Surprising Numbers?
So, here is where this race goes considerably sideways. Why? That is simple. Always bet with caution when it comes to top political betting sites. It could be good to think about some other choices in the 2024 US Presidential Election Bets.
After all, the funny thing in politics is how quickly things can change. Some argue that a person like Trump keeps coming back because the media has almost a "Trump Derangement Syndrome". It does seem like they feed off each other. Most politicians from the other side of the aisle take the bait hook, line, and sinker. Now, that is amazing how often it works. If more voters vote on Election Day, numbers may just tilt even more to the Republican side.
Heading into the summer of 2023, inflation still remains very much apart of the vocabulary. Eggs are at crazy prices. Interest rates keep going up and so does cost of living. More and more Americans feel like it's harder and harder to make ends meet. Add in more complications with Russia and China and there's no wonder why more and more citizens feel like the Democrats in power are not doing enough.
No one fights harder to build a better future for our nation, lift up women and girls around our country, and secure our basic rights and freedoms than President @JoeBiden. pic.twitter.com/VKHBIL3GAQ

— Kamala Harris (@KamalaHarris) March 30, 2023
Again does anyone believe this? Based on around 40-42% approval ratings, that answer seems to be no. Now, that is why the US Presidential Election Bets started to tilt when it comes to whether a Republican or Democrat wins the White House. Remember, it is not the popular vote that is important. By the way, Democrats run at a -350 to -450 there. On the other hand, Republicans are a -125 to -165 favorite to win back the Presidency.
US Presidential Election Bets – What About DeSantis?
After what happened with Trump and now with Biden, what about Ron DeSantis in the US Presidential Election Bets? This is a marathon and not a sprint. However, some haymakers can be delivered early that has ramifications late. Look at how Donald Trump has come out swinging and Ron Desantis has not. That becomes telling after awhile.
Some notables like Nikki Haley, Kamala Harris, and Pete Buttigieg are well in the +2500 to +3000 range or so for a reason. Right now, they carry little momentum unlike Trump, Biden, and even Desantis. Look at what the Governor of Florida has done for his state. They are on the map. People move there and most seem to like living in "The Sunshine State." The same cannot be said about places like New York and California where crime is on the rise and tensions are too.
This race for the Republican nominee will be a fascinating battle to see if DeSantis even announces he is running. The Florida Governor has not made a decision yet. Also, can he go toe-to-toe with Trump and some of the other potential candidates?
DeSantis Says 'You Ain't Seen Nothing Yet' About Disney & Reedy Creek Fighthttps://t.co/DG4v4mnvQO

— WDW News Today (@WDWNT) March 31, 2023
Looking at the fact that DeSantis remains persistent serves him well and makes him a viable candidate for President. Now, the question is does he run?
Are there any longer shot choices for President?
Yes, some longer shot choices for President are out there. It boils down to who is willing to run or not to run. Michelle Obama at +3700 would be interesting along with Mike Pence at +5200. Obama would certainly make things very interesting.
Sportsbooks Sign-Up Bonuses To Help?
Thankfully, these best sportsbooks sign-up bonuses can be useful to make more wagers!