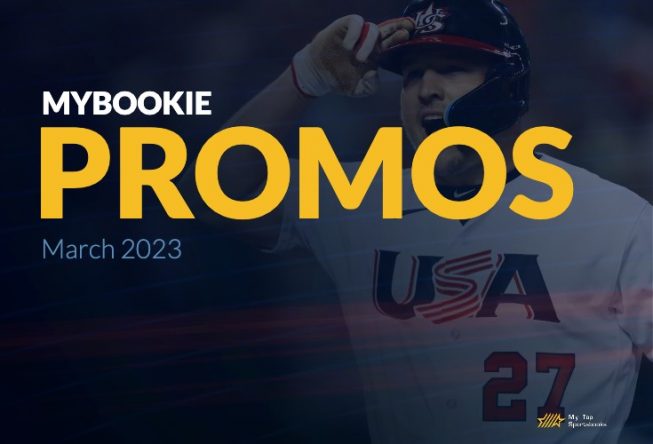 One of the underrated keys to success in betting is having "dry powder" and by that, we mean money on the sidelines ready to attack when an opportunity presents itself. That opportunity might present itself this month with a ton of sports going on — March Madness, the World Baseball Classic, NBA, and the soon-to-be-starting MLB. Perhaps the best way to accumulate dry powder is by leveraging deals at top-used online sportsbooks, such as MyBookie. In fact, the site has numerous big-money offers on the table right now, which we're about to share with you for free. Let's get right into it:
Free Play After Every Single Deposit At MyBookie
Let's begin with the tried-and-true deposit bonus. Look, just about every single online bookie offers these in some form or fashion. But just because it's the norm doesn't mean it's not a killer deal. MyBookie offers two such bonuses — for new sign-ups and on reloads.
When it comes to the classic sign-up bonus, you have a shot at getting up to $1000 in free play at MyBookie if you're a first-time user of the site. Now that one-grand figure is only if you max out the deal, which requires a $2,000 deposit to do so. That's because MyBookie matches initial deposits of new users at a 50-percent rate with $1000 being the cut-off number on rewards. So in essence, you're getting a "buy one, get one half off" deal with this.
Among the entire online marketplace, a $1000 max bonus is among the industry's best. We've seen a few higher, but not much. There are hardly any quicker ways to inject your account with loads of free play to bankroll your bets than a sign-up offer like this.
Once you've exhausted the sign-up bonus money, bettors can next take advantage of MyBookie's reload bonus. It's not as lucrative upfront, but the long-term value is significantly better. The deal is also limited to $1,000 in free play, however, the match percentage drops from 50 to 25. So in this case, the bonus isn't maxed out unless the bettors insert $4,000, which is not a small number by any means.
But as we said before, there's more value over the long haul with the reload bonus. This is because, unlike the sign-up deal, this isn't a one-time offer. No, no, you earn free play for as long as you keep depositing money into your sports account. For bettors that are in it for the long haul, that free-play potential is massive on a long enough timeline.
Casino Deposit Bonus Is Its Own Promo
We neglected to mention one thing about the sign-up bonus we just covered — it's for the sportsbook only. MyBookie actually offers a completely separate deal on initial deposits made into the site's casino section, and this offer is actually more lucrative. You're actually getting triple the value on this promotion!
Here's how it works: instead of a 50-percent match, you get a 150-percent jump with the casino deal. The max bonus on this deal is $750. Therefore, if you want to max out this deal, you would be required to insert $500 of your own money. That's the definition of "bang for your buck" if we've ever seen one!
This is also a one-time bonus. And unlike the sportsbook, there's no daily reload bonus to take advantage of at MyBookie's casino. So that's a bummer, but still, for how long it lasts, the casino's initial deposit bonus screams value!
Daily Deals Are The Norm At MyBookie
You know how MyBookie makes up for its lack of casino reload bonus? With daily deals available three times a week. Yep, it's true. Here's a snapshot of each and what they offer:
Rebate Mondays: any losses incurred in the MyBookie casino are eligible for a weekly refund. MyBookie will pay back 10 percent of losses up to $100, with the payout happening every single Monday. This is on net losses, not the total amount wagered so keep that in mind.
Free Spin Wednesdays: with a minimum deposit of $50, bettors are eligible for 50 free spins on slot machines inside the casino. Use promo code MBSPINS to claim this offer.
Casino Bonus Weekends: so there is a reload bonus in the casino — but it's strictly for the weekends, not week days. Insert money into the casino from Friday to Sunday and bettors earn a 200-percent match up to $500. You'll need a promo code here, as well, which is MBWEEKEND. Enter this in the cashier when depositing over the weekend to redeem.
If you've read every word up until here, then you should click on our up-to-date MyBookie review. This review will give you the full lowdown on the popular bookie beyond just its bonus department — including sportsbook and casino menus, deposit types, and a whole lot more. It's mandatory reading so you know what to expect at MyBookie besides just tons of free play!