Legal Sports Betting in Alabama
Sports betting in Alabama is illegal. Despite numerous attempts in recent years, including the latest in 2021, there has been no real progress towards sports betting legalization in the state. Despite the illegality of betting in Alabama, there is a range of trusted off-shore sportsbook providers that operate in the state and across the USA.
While online gambling is illegal in Alabama, there is a range of excellent brick-and-mortar casinos. Many of the online bookmakers offer some great bonuses and very competitive odds, which often means it's worth shopping around before depositing. We'll help you with this below.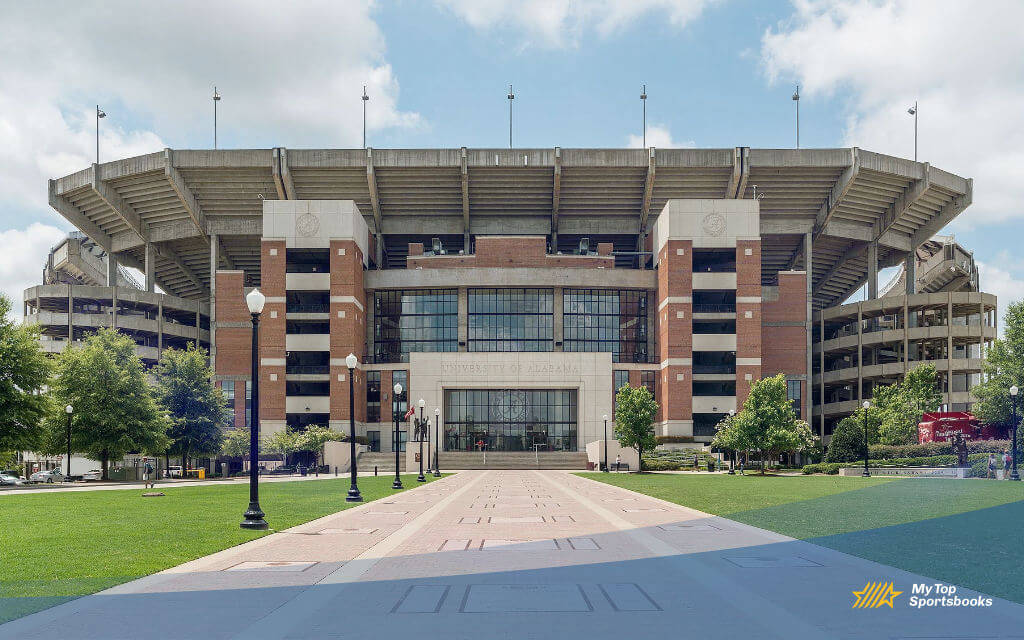 Alabama Sports Betting Timeline – Recent Updates
Conclusion in 2021: Alabama state legislature failed to pass SB 319, a major piece of sports betting legislation that would push for a statewide referendum regarding the legality of online sports betting, as well as online casinos and iGaming. The earliest that Alabama citizens can vote on sports wagering is now 2024, meaning sports betting won't come before 2025.
November 2021: Individual voters would have had to vote to legalize sports wagering and other gambling operations via ballot.
March 2021: SB 310 forwarded, which designated that a new Alabama Gaming Commission would be in charge of administering and overseeing state gambling operations.
February 2021: SB 319 was written and passed by the Senate.
Five Reasons to Bet on These Alabama Betting Sites
The team here has carefully assessed the online sports betting sites in Alabama. We have used these sites for many years and are well-acquainted with betting markets in the state. Our experience working with bookmakers has given us a discerning eye and we have a special knack for finding quality.
When betting online, you want to feel safe while enjoying the various sports betting markets and other gambling services. Below we will provide you with the five things to look out for when selecting a sports betting site. We would advise taking a look at our list of recommended bookmakers to make life easier for yourself when looking for bookies.
Competitive Bonuses and Promotions
Bonuses can be easily divided into two different categories. The first and foremost is the 'Welcome Bonus', which is something that bettors will find available at any credible online bookmaker. The bigger the better, but be aware of rollovers and conditions for the bonus to be paid out. More often than not, you'll see bonuses at 50% or even 100% matched. This provides the user with a great margin for error when they first deposit.
The other kinds of promotions are centered around major sports events and seasons, meaning that these bonuses are seasonal and come around towards the climax of a particular sports season.
Line Shopping
We cannot stress this enough. This is something that even more experienced players overlook. Don't simply settle for the first sportsbooks you find; there are players that have been betting for years, still using the first bookmaker that they registered with.
Every bettor should aspire to find a quality sportsbook and one that offers a range of betting lines. As a citizen residing in Alabama, you should look out for these certain qualities when selecting a sportsbook:
Find betting markets to suit your preferences
Check out the bonuses and promotions
Compare the odds against others
Explore deposit and withdrawal options available
A bettor's assessment of the market shouldn't end there. There are always qualities that are unique to each player, but as a general rule of thumb, these characteristics are integral.
Broad Range of Betting Lines
Well, this is fairly self-explanatory. It would be a mistake to wager with an online provider that doesn't offer a range of betting lines, covering global markets. While it's comfortable to simply follow your favorite betting lines, it's important to have the option to wager with markets that are more leftfield.
A Clean History
A sportsbook's reputation within the community means everything in this industry. If a bookmaker has failed to pay out customers or has carried out some kind of malpractice, the gambling community doesn't forget. Our best advice is to take a look at our reviews and learn more about what's happened in the past and what you're likely to experience once you've deposited.
Quality Customer Service
This is essential. At the end of the day, once you've deposited with your sportsbook of choice, the bookmaker has control of your money. Whenever it comes to your own money, you want to feel that you're in safe hands and with a provider that cares about you first. While this is commonplace with bookmakers these days, don't be fooled by rushing into depositing, look around. To help you find the right bookie, look out for these customer services:
Email
Contact Centre
Live chat
Community forums
FAQs
List of Casinos in Alabama
Given that sports betting in Alabama are illegal, it is certainly not the state for land-based gambling. Having said that, Alabama is host to 4 different brick-and-mortar betting facilities. The casino is Native American-owned, while the only other is a horse racetrack. Let's take a look at the full list here.
Victoryland – Shorter, Macon.
Wind Creek Casino & Hotel Atmore – Atmore, Escambia.
Wind Creek Casino & Hotel Montgomery – Montgomery, Montgomery.
Wind Creek Casino & Hotel Wetumpka – Wetumpka, Elmore.