Best Sportsbooks For NCAAB Betting
Betting on college basketball offers exciting wagering opportunities all season leading up to the big March Madness tournament. The top NCAAB betting sites have odds and lines for all the top teams like Duke, Kentucky, Kansas, Texas, and more.
College basketball doesn't necessarily last long — November to March — but in the time span that it does, it's loaded with opportunities to make money. That's mainly due to the sheer amount of games available to bet on up and down the country. There are hundreds of D1 college programs, from the powerhouses of the Atlantic Coast Conference to the little-known schools in the Western Athletic Conference. But what's an opportunity if you don't have a sportsbook you can trust? Welp, we've hand-picked the best sportsbooks for NCAA betting below to help you seize the never-ending opportunity that college hoops are.
NCAAB Public Betting
The NCAAB is a massively underrated betting line, as there is a wealth of great NCAAB betting opportunities for bettors to get involved with throughout the season. We are keen to see what the new season will bring, given that NCAAB betting sites offer a range of betting lines, including some great futures. Teams are still warming up for the start of the season, but once things get underway, we'll see which teams are pushing for a title and bettors will be able to start picking up on NCAAB betting trends for 2023/24.
Best Overall Bookie For NCAA Basketball Betting Is Bovada
If you can only use one online sportsbook during the NCAA hoops season, then it might as well be Bovada. That's because this bookmaker — perhaps the most used offshore site in the United States — is an absolute haven for basketball bettors. It offers all the must-have features you'll need to get you from preseason to March Madness.
One standout feature is Bovada's sportsbook menu. It's big. Really big — especially when it comes to collegiate basketball. If it's a D1 game, it's available at Bovada. Heck, you're likely to find some D2 and D3 games on the menu too. This is perfect for the diehard bettor that wants to gamble on any school, not just the big-name ones like Duke or Villanova.
Furthermore, you're almost guaranteed to get solid betting prices at Bovada. Generally speaking, it's priced close to what you'll find at a Las Vegas sportsbook. We do suggest bettors "shop lines", but still, Bovada's odds will fall in line with the industry for the most part.
This deep and well-priced betting menu is housed in a no-frills website that's easy to pick up on. That makes Bovada ideal for not only hardcore bettors that just want to lock in bets at respectable odds but also novice players barely "learning the ropes." It's this good overall experience that ultimately brings bettors back to Bovada time and time again despite a large number of competitors in the marketplace.
Why MyTopSportsbooks loves Bovada for NCAAB betting:
Huge NCAAB betting menu
Clean and straightforward user experience
Trusted name in the industry
Bonuses At BetOnline Pay Big For NCAAB Betting
A free-play sign-up bonus is almost a "rite of passage" to online bettors. Virtually every sportsbook offers one and who doesn't like free play? But we have to say, BetOnline is a real leader in the welcome bonus department. That's because this platform's welcome offer is a massive bargain, which gets even better if you claim your deposit bonus with Bitcoin.
Almost year-round, BetOnline keeps up the same bonus to new bettors: $1000 in free play with a 50-percent match. That's a whole lot of money and it could go really far when betting on NCAA basketball during the season. For bettors that are looking for a quick injection of money into their betting accounts (for a low amount of risk), BetOnline should demand your attention above the rest.
Why MyTopSportsbooks loves BetOnline for NCAAB betting:
Huge diversity of NCAAB odds
$1000 sign-up bonus
Variety of payment methods (both in and out)
Best NCAA Tournament Contest Is Held At MyBookie
Without question, the two best times of the year in sports betting are the Super Bowl and March Madness Tournament. Why? Because betting sites roll out their very best promotions during these two events when interest in betting is at a fever pitch. You'll see a litany of different offers in late February and early March in anticipation of the 68-team tourney for men. MyBookie is consistently among the most promo-heavy.
MyBookie is famous for its $1 million perfect bracket contest, which as the name hints, awards one million dollars to anyone that can pick every NCAA Tourney game correctly. Obviously, that's a tall order — impossible some would even say — but the site also offers $100,000 in cash prizes to top bracket pickers, whether they're perfect or not. These deals could change, but they're examples of what's been available during March Madness. Either way, expect huge promos from MyBookie come this time.
Why MyTopSportsbooks loves MyBookie for NCAAB betting:
$1 million prize for a perfect NCAA Tourney bracket
Variety of March Madness promos and contests
Large menu of NCAAB odds
XBet Is Go-To Bookie For NCAAB In-Play Betting
In-play betting is on the rise, especially in college hoops. The sport lends itself well to live betting thanks to its high-paced style. However, that could also be a detriment to a sportsbook with a glitchy in-play experience that can't keep pace with the action. Thankfully, no such problem exists at XBet.
In our experience, Xbet's site lags very little during in-play. That means you can place bets without lines changing on you, or worse, being off the board completely. As in-play continues to surge in popularity, XBet should too due to its high support for the feature.
Why MyTopSportsbooks loves XBet for NCAAB betting:
Seamless live betting experience
Several different bonuses to choose from
Fast-rising sportsbook gaining popularity online
College Basketball Betting: Big Spreads, Big Upsets
Like college football, the sheer number of teams in NCAA basketball (351 in Division I) means some incredible mismatches occur each week. This results in larger average spreads than the pros. However, college basketball games are also the shortest of the major team sports. Concerning real-time action, NCAA basketball games run just 40 minutes (two 20-minute halves). That short duration can lead to significant upsets. The longer an over-matched opponent is required to punch above its weight, the more likely it succumbs to a knockout blow.
NCAAB Betting Strategies, Tips, and Advice
Knowing a few tips will help you make the NCAAB best bets possible. In addition to understanding the basics of college basketball odds, being familiar with the teams, and having a financial strategy, there are some specific tips on how to apply this knowledge.
Keeping an Eye on the Hype
The media loves a narrative, and so do we. They build them up around star athletes. This practice can make them seem either invincible or doomed to defeat. However, media narratives are just that.
As bettors, it can be tempting to be influenced by the stories we tell. This can make us think some bets are great deals when really they are not. It is important to look at the hard facts. Take a step back with a cool head and re-evaluate.
The good part is that the bookies can also be influenced by the hype. This means that you can outwit them if you are aware of the media narrative. In other words, you can keep a critical eye on the media narrative and watch how this will affect the betting lines.
Watch the Lines Move
College basketball betting really heats up come March when the NCAAB playoffs begin. The bracket-style tournament format leads to exciting upsets and surprising results. Underdogs can make runs while favorites like Florida and Georgia sometimes fall early.
As you keep an eye on the hype, you should be watching betting lines move in parallel. This will be a big part of deploying your betting strategy.
Plus, as you watch lines move, you can be waiting for the right time to strike. Watching them fluctuate is a way to become familiar with the lines and the markets.
For more details check out our guide on why betting lines move.
College Basketball Fans are Fierce
College fans come from all kinds of demographics. They are adults who have long, storied relationships with these teams. They are residents who live in the same city or town as the university, and they are the students who attend the school.
These fans are fierce. Many of them have personal relationships with the athletes and are winning to bring it all to the stadium. This means that the spirit in the stadium will be affecting the mental space of the athletes.
Home-field advantage is a bigger deal in college basketball. And this will also vary from stadium to stadium. Some schools have larger traditions of fans affecting the outcome of sports. Do not leave out this factor when making your college basketball bets.
How to Study the Roster
When looking at two teams, it is important to dive into the details. This means looking beyond their wins and losses. It means looking into their starting roster for a particular game.
When looking at the two teams' rosters, look at how each position will line up against its counterpart. This will help you with all types of bets: college basketball spreads, lines, and props.
Also keep an eye out for any dominant players. If one player is able to dominate the court, no matter how good on average the other team is, they will need a similarly skilled player to keep the other one in check.
The Strength of the Schedule
When you are looking to bet on college basketball game, you have to look beyond this singular game. You should think about how the previous games and schedule will affect the energy of the players.
Court fatigue is an underestimated force in college basketball. With so much travelling and tight schedules, the players may not always be on the top of their game. Look out for any intense matchups in the previous days, or long flights.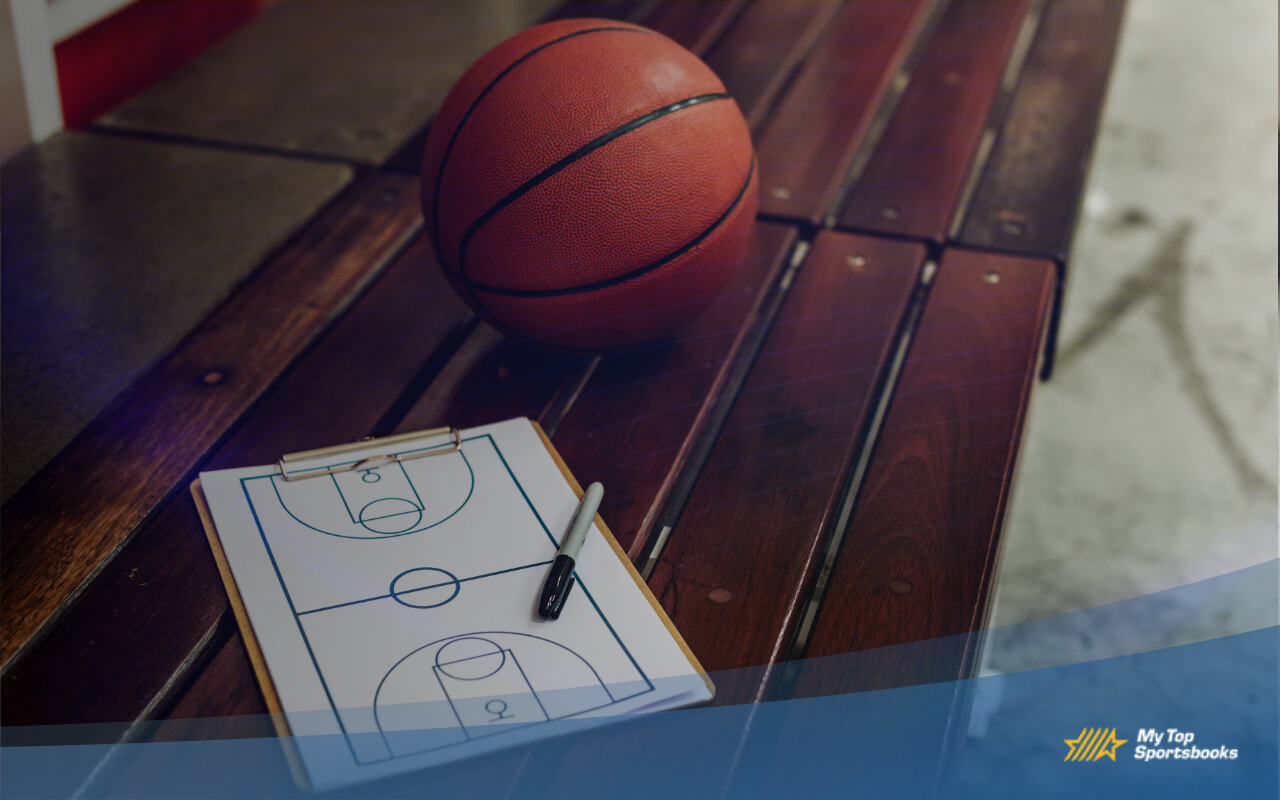 Types of NCAAB Bets
While less popular than NFL football wagering, college basketball betting still draws lots of action, just as NCAAF betting does. Top teams with passionate fanbases attract lots of betting interest throughout the long season with conference games and key matchups.
The best college basketball betting sites will have plenty of bet types. This is a key part not only to enjoying sports betting, but also in getting the best payout possible. Here are the ones we look for in our NCAA basketball betting sites.
Prop Bets
Prop bets allow you to bet on everything that does not directly relate to the end of the game. You have player and team props. For example, you can bet that Kansas or Michigan will be the first to score. You can often find the most competitive odds in this category, as they tend to fly under the radar.
Parlay
A parlay is when you string multiple single bets together into one. In parlays, you have to win every bet in order to get the payout. Setting up a parlay boosts both your risk and your reward, making this a great way to make real money with online betting.
NCAA Basketball Futures betting
Futures are when you place bets on college basketball today for an event farther away in the future. NCAAB futures are generally about bigger events, such as March Madness betting, than just a regular-season match. For example, you can bet on who will win the National Championship or make it to the Final Four starting a full year beforehand.
But be warned: odds for college basketball futures bets will change drastically over time. This is both an opportunity for an NCAAB betting strategy and a risk. The earlier you place your bets, the better the value will be because there is an inherent risk in the passing of time.
NCAAB Betting Analysis: Live betting and the NCAAB
You can absolutely bet on college basketball live. In fact, it is one of the most exciting and popular ways to make the best NCAAB bets. You can make college basketball spreads during the game, as well as many other bet types:
NCAAB lines: Bet live on which team will be the ultimate victor
Props: These fast-moving bets are more creative and will often be resolved during the match.
Over/under: Bet on the total points scored in the game. These odds will change a lot throughout the match.
NCAA basketball spreads: As the clock ticks, bet on how large the winning margin will be.
Betting live on NCAAB comes with lots of advantages. One is the pure excitement. You can feel the rush as the betting markets change minute by minute. Golden opportunities may appear and disappear, any minute.
Plus, when you're betting live, you are more likely to see the best NCAA basketball bets. That is because you will see more odds on the same markets, so you can be more selective and really prey on the deals.
Moneyline Betting and NCAAB
Placing moneyline bets on NCAAB is a fairly straightforward process. In fact, NCAAB betting lines are the easiest of all betting markets in college basketball. When you are making a moneyline bet, you are simply choosing who you think the winner of the game will be.
In standard American odds, the favorite for the moneyline will have the lower, negative number. This option will often be among the best college basketball bets today. It is a quick resource you have on hand, a safer bet you can always rely on.
The Underdog Approach
One way to organize your NCAAB betting strategy is the underdog approach. In this tactic, you focus on the teams the bookies suspect will lose. In other words, the bets with odds in the positive (+)  rather than negative (-).
While you may lose more bets than you win, they have such high value that you could still come out winning more money.
Bankroll Management
Be sure that your NCAAB bets fit into your overall bankroll management strategy. You should maintain a financial approach across all your sports betting. This will help you better evaluate the different strategies you are working on. After a period, you can tweak your approach and start making even better bets.
Getting Started: Finding Your NCAAB Betting Site
With all of this information on college basketball betting strategies, the latest picks, and more, you are ready to dive in. Check out these top NCAAB betting sites.
Best NCAAB Betting, November 2023
Duke is +1100 to win the 2024 NCAA Men's Basketball Championship at BetOnline.
Purdue has +1200 odds to win the title at Bovada.
Kansas is +1000 to clinch the championship at XBet.
Michigan State has +1400 odds to cut down the nets at BetUS.
Zach Edey is the +175 favorite to win the 2023/24 Wooden Award at BetOnline.
Kyle Filipowski has +800 odds for the Wooden Award at Bovada.
Arizona is +200 to win the 2023-2024 Pac 12 regular season at BetOnline.
UCLA has +400 odds to win the Pac 12 at Bovada.
Betting on NCAA Basketball Games FAQ
Find answers to common questions bettors like you have when researching which sportsbook to join.