Welcome to our free, detailed, professional article on the benefits of an odds calculator. On this page, you'll find all the information you need to start using the betting odds calculator offered here on this page.
Perhaps you are a regular user, which helps you calculate the implied odds, paving the way for value bets. This could be your first encounter using the odds calculator for your payout, and you aren't yet exactly sure what it can do. It's just a calculator. You'll soon learn how wrong that statement is.
Regardless of your experience with odds calculator betting, there's a lot to learn about the probability of an odds calculator. The more you understand how it works and its potential, the more you'll love this under-valued but crucial piece of betting kit. And then, it will start boosting your profits and helping you make smart bets. You'll find everything you need in this article and the FAQ section.
Bonus
125% Sports Bonus - up to $2,500
The bettors' choice
Is there a better-loved bet than the parlay? The answer to that, of course, is no. The parlay is known by a variety of names worldwide. There's Accumulator or Acca, Role-Up. But whatever slang you use, the aim remains the same. All selections must win, regardless of your bet slip's number of picks.
Why is the parlay so attractive to bettors, especially those with love for NFL, English Premier League, NBA and NHL? There are a few reasons. Well, more than a few. The parlay has it all. As it's one bet, it means there's one stake. It's affordable and great value for money. Place an EPL Saturday bet, and you could be in the running from the early kick-off through to the late finish.
As all selections must win for your parlay to be settled and the profits paid into your betting account, it has huge potential in terms of profits. A $1 bet on a 10-team soccer parlay could pay more than $200. The more teams you add and the more risk you take, the higher the potential returns grow.
The parlay calculator also allows you to work on other bets. With the click of a button, it becomes a trifecta calculator, then a Heinz, Goliath. The parlay combination calculator will take any bet you can throw at it on the chin and display your parlay payout.
Vegas parlay bets
A parlay odds calculator is a common tool used by many sports bettors looking to make Vegas parlay bets. They allow the bettor to input the odds for each part of the parlay wager to provide a rapid calculation of the bet.
We will explore using a parlay calculator and how to input the odds of other bets and provide clear examples. What are the two-team parlay odds? Maybe you are feeling adventurous and want to aim high with six-team parlay odds, eight-team parlay odds and ten-team parlay odds.
It doesn't have to be the Moneyline odds, either. Betting sites offer a mix of different markets, including the point spread in the New York Yankees game or an MLB Acca. It can be the favorites or the underdog. You're in control.
Let's get calculating.
What is a parlay?
What's a parlay definition? What does parlay mean? It's a reasonable enough question, and the description you see on some sites could fool you into thinking it was a complicated bet reserved for the experts. But nothing could be further from the truth. It's the people's champion.
A parlay is a type of bet that can be placed in which multiple selections are connected to create higher odds and a higher payout than a single bet would.
Bigger odds and more selections only add to the risk of the bet, as all elements of the bet must succeed to win. Meaning even if one game loses, then the parlay is forfeited. The more games you add to a parlay, the bigger the payout.
Sometimes understanding a type of bet is made a lot easier by looking at an example of this bet in action.
Example
A bettor stakes $100 on a three-team parlay with the Mavs +150, Bucks +100 and Pistons +203. If all three of these teams win, the $100 bet pays out at a staggering $1,515. The bookie will keep your $100 stake if less than three teams win.
This is an example of how a bettor can turn a $100 bet into a monster payout without wagering on high odds and taking a needless risk. The bettor can create a perfect parlay by combining these three small wagers with favorable odds.
Back each team as a single by breaking your stake into three parts, and you'll bag three individual winning bets but will walk away with far less than if you had clubbed the trio together in an Acca.
Are parlay bets fair?
Gamblers are often suspicious of these types of bets as the odds are all wrapped together. Winning huge amounts of cash off a tiny stake. It sounds too good to be true, and with much suspicion lingering amongst bettors, it's easy to understand why they may be put off. But they'd deny themselves the unique enjoyment of backing an exciting parlay.
Parlays are always great bets, even the losing ones. They are interesting, affordable and can help you win big—the kind of payout that could change your weekend, month, or life. The parlay has a lot in common with a lotto ticket. But they're not for the sharps, as the sportsbook always gets the upper hand.
Sportsbook providers have an algorithm that calculates the parlay instantaneously, meaning bet parlays are calculated each time similarly. There's no black or white here. It is widely understood that this betting method favors the house, as the vig leans into the sportsbook. Making the calculations is beyond betting basics, but we'll discuss this next.
How to calculate parlay odds
As bettors play the odds at their favorite sports, they place a unit on a parlay, and the sportsbooks automatically calculate the potential payouts. Alternatively, bettors can use a free parlay calculator to make the calculations independently. This ensures they always get the winnings they deserve and can't be short-changed.
Imagine you're using a standard NFL parlay calculator and the math calculations start with converting the American odds to decimal odds. Then multiply the decimal odds together to get your multiplier. Multiply the multiplier by your stake and then subtract your original stake to get the parlay odds.
So let's put this into a sports context if you're parlaying the Jets, Chiefs and Ravens at -110 (1.91 decimal), your math would look like this; 1.91 x 1.91 x 1.91 = 6.97. Then 6.97 – 1 = 5.97 for the parlay odds.
Free and easy
While it's rare for a sportsbook provider to include a Vegas parlay calculator on their website, many online can be used quickly to check the vig and value in the odds. These features are reserved for the biggest and best bookies and are always free to use for the user.
Suppose your current bookmaker doesn't offer you a free Vegas bet calculator. In that case, it's time to shop elsewhere, such as DraftKings, BetMGM, Fanduel, Caesars, Pointsbet, or any online bookie advertised on this page. Choose any online betting app promoted on this page to register an account, land the welcome bonus free bet and start using the sports betting odds calculator.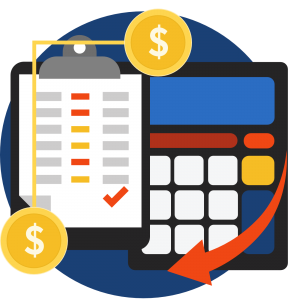 Automatic Calculator
Setting up a parlay is quick and easy for just about every bookie. Once you have logged into your betting account with your username and password, you should check your available balance. Is it enough to cover the cost of your wager amount? Perhaps it's time to deposit using your debit card, e-wallet, or crypto.
When your balance is sorted, it's time to construct your parlay. Click the sport you wish to bet on, the fixture, and then the market to add it to your bet slip. Keep adding selections and monitoring the potential payout for your desired stake. Some bookies have this information on your bet slip, which will update automatically. If it doesn't, your bet calculator is there to help.
You'll see your potential returns when you have the right number of picks added to your bet slip and input the stake you fancy. If everything is good, check and confirm. Your bet will now be live, and a cash-out amount will be added to your account. At first, the cash-out will be equal in value to your stake but will rise and fall depending on how well your bet performs.
We've got your back
Check out the other pages on our site for more expert gambling advice. We cover the best promos and ways to help avoid a gambling problem and to remain safe online. There's info on how to find the true odds every time and maximize your total payout, whether you're using an odds converter on a 10-team parlay covering college football or what the minus sign means on your betting app.
Do you know the rules and laws relating to online betting in your region? They are changing, and it's crucial you know where you stand. We'll keep you up to speed on developments from Los Angeles to Las Vegas.