Wondering how to use the calculator above? Well, this guide will show you how to make the most of this exciting and powerful tool. You'll be betting like a shark in no time!
The best online sportsbooks offer a wide range of exciting features, including live streaming, odds boosts, free bets and other promotions, professional predictions, odds converter, and the latest in-play betting.
One online sports betting feature doesn't quite get the credit it deserves; the online betting odds calculator.  We understand why. An HD-quality NFL live stream or the latest betting prediction from a leading name in their field is great. But the odds calculator is worth far more to professional gamblers. And it would help if you used it more often to improve your bets, from your bet amounts to the total payout due.
Below you'll find a list of sports betting sites that offer registered members access to a racing odds calculator that can be used on all sports. Not only will you have a Kentucky Derby betting odds calculator that allows you to convert odds from Fractional to American, but as a new customer, you will also enjoy access to a welcome bonus free bet promo.
Bonus
125% Sports Bonus - up to $2,500
The horse racing odds calculator has the power to help you beat the bookies. It has many great features. You can work out the implied odds, use the odds calculator payout, and get the probability to the odds calculator as close to where you need it to be. The odds calculator for betting does it all and more.
Getting Started In Betting Odds Calculation
Our team of online sports betting experts at MyTopSportsbooks wants to see you using the sports betting odds calculator. We know just how important it can be when targeting a profit on an NHL point spread, for example.
That's why we have put together this article. By the end of the page, you will understand how to use the American odds calculator to ensure you get the best deal possible and the value you deserve.
We will delve deep into how to use a betting calculator and show bettors how to get all the data they need to make the best value wagers today! There's even a handy FAQ section and odds conversion table you can refer back to when necessary.
Speed and Accuracy
Using an odds calculator may seem excessive to some beginners, but it's a commonplace for many online sportsbook users. A betting odds calculator allows users to quickly and accurately input their stake and the odds format they desire (American, Decimal, or Fractional). It then calculates the potential return of bets.
A bet calculator is ideal for providing an accurate idea of the bettors' potential winnings for all types of sports wagers. This includes standard single bets using the three different odd types. The calculator will show bettors how much they can win based on the odds and total sum wagered.
It's a great tool, as it gives bettors an exact amount they can win before even placing a bet. The gambling odds calculator can also help you make better decisions regarding cashing out your bet, the best stake for a wager, and even the bets you can make in play to guarantee a profit. There's more to the sportsbook odds calculator than meets the eye.
What Is a Betting Odds Calculator?
Using a sports betting calculator is a basic procedure, with bettors of all abilities able to handle the process without fuss. Yes, it's quick and easy, and you can check your potential profits or use the percentage to odds calculator option. But there are some basic steps bettors should take if they start using an odds payout calculator.
Enter the odds using one of the various formats; American Odds (-400), Decimal Odds (1.25), Fractional Odds (1/4), or Implied Probability (80%). Bettors will often have to go with whatever odds format their sportsbooks provider offers. It's a commonplace for providers to offer all three, but it depends on where you are.
Enter the stake. The Moneyline odds calculator will handle the rest for you. It will inform the bettor of how much they'll win, including details of the total potential payout. Normally these calculators are set to a value of $100, but this figure can be changed.
Three methods of defining the decimal odds calculator are frequent among bookmakers. Implied probability is also used when evaluating a bet or checking the likelihood of the estimated outcome. Change the number of selections with ease. This will make it easier when using a parlay calculator.
What are American Odds?
American odds are the default odds used by sportsbooks like Caesars based in the states. The odds bettors will see a '-' sign to represent the favorite or negative odds and a '+' sign to show the underdogs. All bets are based on winning $100.
An example of this will be if a New York bettor puts $100 on the Mavericks to win the NBA Finals. Dallas is the slight favorite if the odds are -140 for the Mavericks against the Suns.
A bettor must stake $140 to win $100 on the Packers. If you look at underdog odds, the '+' sign represents the profit you can make for every $100 wagered. These are known as positive odds.
If the bet wins at a bookie like Fanduel or BetMGM, you'll know exactly how much profit you'll make before the result is confirmed. Please remember, if you're unfamiliar with any betting languages sports bettors use, look at our complete glossary of betting terms.
What are Decimal Odds?
Outside of the U.S., most online sportsbooks and land-based betting facilities use Decimal odds. Decimal odds show the amount a bettor can win for every $1 staked. The number indicates the total return for the better, not just the profit, as is seen in the other two odd formats.
Here's an example:
The Stars are 1.714 in decimal odds (-140 in American). For every $1 wagered, the bettor profits 71.4 cents plus the original stake of $1. The Oilers have odds of 2.2 in decimal odds (+120 in American), which means every $1 bet would profit $1.20 plus the original $1 stake.
What are Fractional Odds?
We come to Fractional odds, typically used in the UK and Ireland, even when betting on American sports, like the MLB and NFL odds. It's uncommon for bettors to use the fractional formats for sports betting other than in racebooks, where it's frequently used. Making conversions in your head is tough.
As we mentioned, the calculation is a little more difficult. Multiply your bet by the top number, then divide the figure by the bottom. A $10 bet at 5/2 odds is (10×5) / 2, which pays out at $25. A $10 bet at 2/5 odds is (10×2), which pays out $4.
Implied Odds
Another common thing to see when using an odds payout calculator is an implied odds option. This means the odds correlate to the probability of a certain team winning or a particular outcome.
Using the example from before, a -140 favorite has roughly a 58.3% chance of winning, while a +120 underdog has a 45.4% chance of success.
In each circumstance, you'll notice the figures total more than 100%. That's what is known as vigorish (vig, juice), which is the sportsbook's cut. That's how they make their profits. Experts know they should be betting at a bookie with a favorable Vig.
A betting calculator can also assess the value of a bet by calculating the vig. That's ideal for helping you find the right bookie and getting the most from your bets.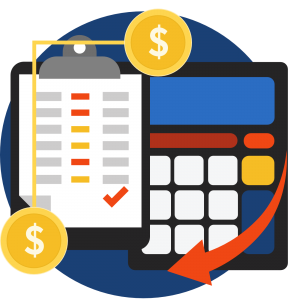 MyTopSportsbooks Conversion Table for Common Odds
We here at MyTopSportsbooks have put together a summary of the conversations in this table:
| | | | | | | |
| --- | --- | --- | --- | --- | --- | --- |
| UK | EU | US | Pct. | Bet | To Win | Payout |
| 1/9 | 1.11 | -900 | 90.0% | $100 | 11.11 | 111.11 |
| 1/5 | 1.20 | -500 | 83.3% | $100 | 20.00 | 120.00 |
| 2/5 | 1.40 | -250 | 71.4% | $100 | 40.00 | 140.00 |
| 3/5 | 1.60 | -167 | 62.5% | $100 | 60.00 | 160.00 |
| 4/5 | 1.80 | -125 | 55.6% | $100 | 80.00 | 180.00 |
| 1/1 | 2.00 | +100 | 50.0% | $100 | 100.00 | 200.00 |
| 6/5 | 2.20 | +120 | 45.5% | $100 | 120.00 | 220.00 |
| 7/5 | 2.40 | +140 | 41.7% | $100 | 140.00 | 240.00 |
| 8/5 | 2.60 | +160 | 38.5% | $100 | 160.00 | 260.00 |
| 9/5 | 2.80 | +180 | 35.7% | $100 | 180.00 | 280.00 |
| 2/1 | 3.00 | +200 | 33.3% | $100 | 200.00 | 300.00 |
| 5/2 | 3.50 | +250 | 28.6% | $100 | 250.00 | 350.00 |
| 3/1 | 4.00 | +300 | 25.0% | $100 | 300.00 | 400.00 |
| 7/2 | 4.50 | +350 | 22.2% | $100 | 350.00 | 450.00 |
| 4/1 | 5.00 | +400 | 20.0% | $100 | 400.00 | 500.00 |
| 9/2 | 5.50 | +450 | 18.2% | $100 | 450.00 | 550.00 |
| 5/1 | 6.00 | +500 | 16.7% | $100 | 500.00 | 600.00 |
| 6/1 | 7.00 | +600 | 14.3% | $100 | 600.00 | 700.00 |
| 7/1 | 8.00 | +700 | 12.5% | $100 | 700.00 | 800.00 |
| 8/1 | 9.00 | +800 | 11.1% | $100 | 800.00 | 900.00 |
| 9/1 | 10.00 | +900 | 10.0% | $100 | 900.00 | 1000.00 |
| 10/1 | 11.00 | +1000 | 9.1% | $100 | 1000.00 | 1100.00 |
| 11/1 | 12.00 | +1100 | 8.3% | $100 | 1100.00 | 1200.00 |
| 12/1 | 13.00 | +1200 | 7.7% | $100 | 1200.00 | 1300.00 |
| 13/1 | 14.00 | +1300 | 7.1% | $100 | 1300.00 | 1400.00 |
| 14/1 | 15.00 | +1400 | 6.7% | $100 | 1400.00 | 1500.00 |
| 15/1 | 16.00 | +1500 | 6.3% | $100 | 1500.00 | 1600.00 |
| 16/1 | 17.00 | +1600 | 5.9% | $100 | 1600.00 | 1700.00 |