How to Read Odds
Learning how to read sports betting odds is an essential step to making smart bets. Whether in American, decimal, or fractional odds, this guide will help you understand how they work, so you can find the favorite, theunderdog, and calculate your potential payout. We aim to fully prepare our readers for their betting journey at the top gambling sites with our series of sportsbook basics articles! There's even a handy FAQ section.
Bonus
125% Sports Bonus - up to $2,500
Comprehensive Guide
Readers often ask us, "how do Vegas odds work?" Sports odds, whether in a land-based casino or reading your favorite online sportsbook, are heavily influenced by what's coming out of Sin City. Understanding sports betting is integral for beginners, and we're delighted to provide a comprehensive guide of all that encompasses betting odds.
We understand what it's like for new bettors, who may be intimidated by the new interface and the diverse options available. There are so many questions when you first start. Like, how do odds work in football? How to spot value in sportsbook odds. Fortunately, we have a broad range of guides available, offering guidance on things such as:
The first thing is to decide which oddsmaker you want to bet with going forward. Once you've established that, you can start understanding the principles of sports betting.
We offer a comprehensive guide on all the sportsbook basics. From placing a bet to reading odds, we've got you covered. Knowing the basics, like how do betting odds work, allows you to start gambling with confidence.
Placing a Bet
Let's start at the exciting bit, placing a bet.
First, you must choose the sport you wish to gamble on to place a bet. It could be the afternoon's horse racing, NBA, or tonight's big match NFL game. There's even the NFL Super Bowl shown live on television with odds attached. Scroll through available events and click the one that catches your eye.
Once you've found the sporting events and best odds you like, click on the competition, fixture and then the market that appeals to you. Click your selection, and it will appear in your bet slip. Now it's time to determine your stake. Add the cash amount you wish to risk on your bet, check the potential return to your liking and then confirm.
The funds come from your available balance, or you can make a deposit using your debit card, bitcoin or e-wallet to cover the cost of the bet. Your bet will become live, and often, a cash-out amount added to your bet. Please keep in mind only the top apps accept bitcoin. There's more at MyBookie. You can add more options to your slip to create a multiple, such as a parlay.
We get into the specifics of how parlays work a bit later, and that's one worth sticking around for with the potential to land a nice profit off small stakes. Let's reload and keep firing.
Sportsbook Layout
There's an assortment of differences between online sportsbooks, but there's always one sportsbook basic: layout.
Every website seems to have settled on a proven formula: listing the best sports available for betting down the left side of the screen, containing odds for individual games/events in the middle of the screen, and putting your bet slip in the top right corner.
The bookie wants to ensure you place a bet each time you visit their app, and the best way to achieve this is by making the layout and theme as simple, user-friendly, and effective as possible. Online gambling is all about convenience for the bettor, and good bookies know this through a mix of experience and good research.
The Stake
In sports betting, the amount you risk on a given bet is called the "stake." Your "winnings" is the money the sportsbook pays you if your wager is correct.
The total of your stake plus your winnings is called the "return." Knowing the difference is important because some sportsbooks will only show your winnings on the bet slip. Others will show the full return.
You must set yourself a staking plan, betting strategy, AND a budget for your betting. The best staking plan is a 1-5 point process, with a one-point bet being a passing interest, while a five-point bet would be your maximum. A bet you are confident will win, and it would be a shock if it didn't go to plan.
Setting a betting budget is easy. To keep it simple, calculate how much you'd be willing to lose to online betting per day, week, or month. Something that makes you comfortable. Then any profits are seen as a bonus.
Calculating Your PayOut
We continue with another essential part of understanding the sportsbook basics. As you input the amount of your stake, the bet slip will show you how much that bet will pay out.
While it is useful to understand how to read odds and how they work, know that you don't need that skill to calculate potential payouts. Some sportsbooks will even allow you to fill the "win amount" section. This section calculates how much you'd have to wager to win that amount of money: a handy tool and one we use often.
You can mess around with the bet slip and add various events to see what your potential winnings could be. If you want to remove any events, click "X" next to the ones you don't want on your bet slip. If you don't want to bet on any of the games selected, there's a "clear all" option on your bet slip.
Keep editing your bet slip until you are completely happy. Remember the sportsbook basics at every turn.
Confirming Your Bet
Once you have checked your bankroll, found an event you want to bet on and decided what to risk, click the "place bet" button; however, be sure that you've filled out your slip correctly. Once you've placed a bet, you can't alter or cancel it.
If you forget which team, you've bet on for the night's action, each sportsbook will have a section where you can view currently unsettled bets. Additionally, this section has a history of previous bets you've made.
The timescale can be changed to today, this week, the year, or a slot you desire. We believe this is another effective way to review your past bets, types of bets like over/under and keep an eye on which sports, competitions and markets are working for you and which aren't. What odds are online sports betting apps that give you the most success? That info will also be available here.
Downloads and Software
You should never have to download any software to use a sportsbook, nor should you need Flash to access the website. If you have an updated internet browser and cookies are enabled, you should have no issues with being able to sign up, log on, and place a wager on a game.
Some secondary features at betting sites may require Flash or an additional download to access. Major sports betting sites will also have a casino and poker area. Those operations will require Flash or new software downloads to access.
Flash helps with extras like live streaming and in-play. The feature allows you to watch games as you make live bets on them. However, that offering is only available for sportsbooks in the U.K. So, if you're using a North American betting site and sticking to sports betting, you shouldn't need any browser add-ons.
But things are changing fast, so you must continue to study the sportsbook basics and keep up with the changes. It pays to know the latest news regarding line shopping, betting against the spread and updated deposit methods. There's far more to betting than simply backing a winner.
Mobile Apps
Mobile apps are available for specific sportsbooks. However, betting apps in North America aren't available on Google Play or Apple Store. The best way to download most sportsbook apps is by going directly to the source. If a sportsbook doesn't have a dedicated app, its website will likely be mobile-friendly.
Today, more bets arrive using smartphone betting apps than desktop computers and land-based bookmakers combined.
Other than operating on a smaller screen, there won't be much difference between navigating your usual betting website and its mobile counterpart. The biggest change is that your bet slip won't always be visible on screen. Instead, your bet slip will be a small bubble in the corner that adds a number every time you select another event. To view your bet slip and place a wager, merely touchable.
Not only do mobile platforms offer the convenience of betting on the go, but certain sites may even offer a special sign-up bonus or another promo for taking advantage of mobile betting. You may see offerings of free bets on the first mobile wager you place.
Check the best sportsbooks like Bovada for promotions or a trusted betting guide from this site to see if they have perks for mobile betting.
Understanding Sports Betting
Now that you know the basics of using a sportsbook website, you need to understand the actual act of betting better.
The next section will tell readers how sports betting works and the work that goes into creating these odds. Remember, the more you know about how a bookie works, the more chance you'll have of making a reliable, long-term profit from betting.
Reading Different Types of Odds
What does + mean in betting, and what does – mean in betting? It can seem complicated, but it's not.
Depending on which country your sportsbook operates out of the odds will be in one of three formats: Decimal, American, or Fractional.
Whatever the default format, you will always have the option to switch the odds to your preferred format. The place to change the format is usually in a scroll-down box at the top of the screen.
Of all the options, this one is the easiest to calculate your potential payout. Simply multiply your risk against the decimal number. That indicates how much your return will be if the bet wins. If you risk $100 on an event that offers 1.50 odds, you will get $150 in total (100 x 1.5). That $150 comprises your initial $100 stake and $50 in winnings. The larger the number, the bigger the potential payout.
Also known as moneyline odds, this format puts every bet relative to $100. If an outcome has a negative number (e.g., 125), that's how much money you must bet to win $100 (e.g. a wager of $125). If the number is positive, that's how much a bet of $100 will pay out. A $100 bet on odds of +250 carries potential winnings of $250.
Fractional odds don't operate like fractions; they're ratios. How to read odds ratio is another crucial element of betting and another of our sportsbook basics. A team listed at 1/2 odds doesn't have a 50-per cent chance of winning. It is a 66-per cent chance. The best way to look at fractional odds is that the number on the right is the amount you wager, and the number on the left is what that stake will payout in winnings. For those 1/2 odds, every $2 you wager will win you $1. And for 7/2 odds, every $1 wagered would payout $3.5. The favourite is always the team with the smaller number. The underdog is the team with longer odds and, therefore, a greater payout.
Betting Odds Explained
As the section above explains, odds come in three different formats, but they all convey the same information. That can be confusing and often warrants the question, "how do betting lines work?" It's probably the easiest part of it all.
To be a successful sports bettor over the long haul, you need to put your money down when the odds are in your favour. In betting parlance, you must make wagers with "positive expected value."
The first step in making such wagers is understanding that the odds, in whatever format, imply a certain probability of the outcome. That's betting odds explained, but there's much more reading available on this subject on our website and mobile site.
Converting Odds to Probability
Let's look at the odds definition and how to read betting odds. Pretend you and a friend will bet on the result of million-coin flips. You take heads; she takes tails. But you don't get equal odds. Instead, you agree to give her +110 odds on every flip while she gives you -110, meaning she will win $110 on a $100 bet if the coin lands tails, but you must bet $110 just to win if the coin lands heads.
If you two are flipping a fair coin, she will end up with a profit, and you will end up in the red. That's a virtual certainty if you flip a million times. Why? The probability of the outcome is 50/50, but the implied probability of her bet is just 47.6%, while the implied probability of your bet is 52.4%.
In other words, if her bet wins 47.7% of the time, she will have more money than she started. To have the same chances, your bet will have to win at least 52.5% of the time. If you're flipping a fair coin, that will not happen.
Below is an example of how to read sports odds which will help you understand betting odds and how you can get the best deal every time.
Example
In this NFL match-up, the New England Patriots were -125 favourites, while the Baltimore Ravens were +105 underdogs. Using the other two odds formats, the odds were.
Decimal:

New England Patriots: 1.8
Baltimore Ravens: 2.05

Fractional:

New England Patriots: 4/5
Baltimore Ravens: 20/19
The implied probability of those odds was
New England Patriots: 55.6%
Baltimore Ravens: 48.8%
For 54 wagers to have a positive expected value, the Chiefs would have to win at least 55.7% of the time, while the 49ers would have to win the game 48.9% of the time. Both of those can't be true at the same time.
How Do You Figure Out Which Team Has Positive Expected Value?
Most successful sports bettors use extremely complex prediction models to calculate how often certain events should occur – in this instance, how often The Patriots would beat The Ravens if they played multiple times.
These models generally input thousands of data points, everything from recent team and player performance to weather and recent record of referees/umpires. If you want to get into the technical side of things, a suitable place to start is learning what a unit in sports betting is.
It's arduous work, and it's why the world doesn't have millions of professional sports bettors. But nothing stops you from putting in that effort and increasing your chances of winning.
Few things are certain in online sportsbook gambling, but one thing you can rely on is the bookies doing their research. They employ the best in the business to conduct hours of research before creating their book and publishing the odds. To help level up the playing field, as a bettor, you must do at least the same research as the bookie.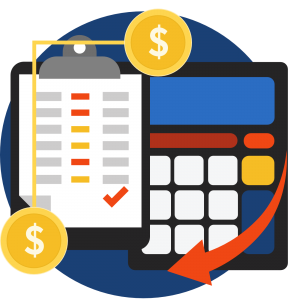 How Sportsbooks Set Their Odds
One question we often get from people wanting to learn the sportsbook basics is how to read odds and understand their meaning. It revolves around even match-ups. Here's an example.
When two teams have the same odds for a game, you might expect both teams to be at +100 (or 1/1). After all, the sportsbook thinks they both have a good chance to win, so isn't it fair to double bettors' money?
Fair doesn't enter the discussion, unfortunately. There is no way around that but knowing the sportsbook basics gives you a fighting chance.
"True" Odds
In even match-ups, both teams will be at -105 or -110 (roughly 10/11 or 1.85), depending on the site. But no matter what, sportsbooks don't offer the true odds as that would result in a one-for-one payout.
That wouldn't generate sportsbooks a profit. Instead, bookmakers over-round, so the total percentage of possible outcomes is greater than 100%. Using these extra percentages, bookmakers make their cut. That's known as the "vigorish," or "vig" for short.
Look at the pre-match betting odds on the coin toss in a cricket match. There are just two options: heads or tails. That means you have a 50/50 chance of getting it right, and the odds should be even money. But check your bookie, and they'll be offering 10/11 heads vs 10/11 tails. That means, whatever the outcome, your bookie makes a profit.
How does this fit into your sportsbook basics? It's a quick and easy way to understand how the online gambling industry works, and it's the same approach for events with multiple participants.
Shifting Odds (Shading the Lines)
Let's now look at what's often referred to as "shading the lines".
The sportsbook risks losing money if more money goes on heads than tails. If heads win, the book won't have enough money from the tails bettors to pay out the heads bettors. (If tails win, the book will get a windfall, but they'd rather have the safety of a smaller, guaranteed profit.)
That's why, in such circumstances, sportsbooks will shorten head's odds to -120. Simultaneously, they will increase the odds for tails proportionately to +100. That will make future bettors more likely to put money on tails. Subsequently, this reduces the sportsbook's risk while keeping the over-round percentages near the same.
Line Move
When the odds shift based on demand, that's called a "line move" or "line shift", and this is the next focus of our sportsbook basics article.
These often occur in the lead-up to an event. A team you want to bet on could be +200 one day, and move down to +150 the next, making timing an important part of sports betting. Whatever the odds are when you place your wager, that's what the book will use to calculate your payout.
What would happen if a team is +120 when you place a bet but moves down to -110 by game time? Rest assured, your bet will payout as though they are still +120 underdogs.
Placing Bets When the Line is Moving
When it comes to placing your bet with a bookie shown at MyTopSportsbooks, you'll have the opportunity to put money down from the moment the lines are released right up until the game co
Although a basketball game may say the start time is 7:00 PM, some pregame introductions and anthems push tip-off back a few minutes. The online betting window remains open until the ball goes in the air.
The same goes for every other sport. You can place bets up until kick-off/puck drop/first pitch. In some cases, you can even place them after. That's a more advanced topic known as "live betting."
We get into explaining the details of making in-game bets over here. Other bets are available to bettors, which we've covered in another of our guides.
Example
Lines will only be unavailable in the lead-up to a game if injury concerns exist around key players and their statuses have yet to be determined. Take, for example, Michael Jordan's famous "Flu Game" in 1997.
The Bulls would've been favoured over the Jazz when the odds came out. But, once news broke that MJ's status was in doubt that morning, the line would've closed. Jordan was so important that Utah would become the betting favourites without him. But if Jordan's status was TBD, sportsbooks would not post their odds. They couldn't post one line that reflected two drastically different futures.
It happens at almost every sportsbook betting event, and you will have choices on how to act to maximise your chance of making a profit. Keep your sportsbook basics in mind here.
"No Action"
At their discretion, Sportsbooks can rule a game "no action" after the betting window has closed.
No action is deciding the bets never took place, and every wager returned. This ruling is for games that are postponed or rained out. No action can also occur when a golfer withdraws from a tournament. However, each sportsbook has a different policy on occurrences like that. So, be sure to find out how yours manages such situations before you place a wager.
Each game and season offer a variety of bets you can place. Here's our rundown of the potential bets you can make at an online sportsbook.
Further Reading
That concludes our article, and we hope it gave you a better understanding of how betting odds work and how you can make them work for you. The odds are one of the most important aspects of betting.
Many inexperienced bettors think it's placing winning bets. That's crucial, of course, but if you want to get the most out of your betting journey, you must begin to look further ahead. For us, if we place a winning bet at odds of 5/1 and find out, we could have got 7/1 simply by shopping around, that's profit lost and for no good reason.
It's difficult to consistently beat the bookies listed at MyTopSportsbooks without giving the "house" a helping hand by accepting a shorter price. There is plenty more reading on this and more basics of betting on our site. Be sure to continue reading our sportsbook basics, studying, and improving your industry knowledge.
You can achieve all that right here with us.