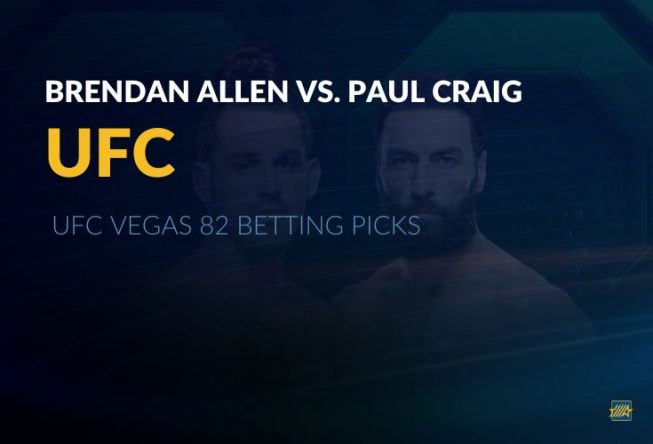 What: UFC Vegas 82
Who: Brendan Allen vs. Paul Craig
Date: Saturday, November 18, 2023
Location: UFC Apex in Las Vegas, NV
Time: Prelims (2:00 p.m. ET) Main Card (5:00 p.m. ET)
How to Watch: ESPN+
The UFC hosts a rare afternoon fight card from the UFC Apex in Las Vegas on Saturday. November 18, 2023, when Brendan Allen and Paul Craig face off in the main event of UFC Vegas 82. The fight sees two top-15-ranked middleweights who are looking to rise in the UFC's 185-pound division. Here is some information on Brendan Allen and Paul Craig before we discuss the betting breakdown for the UFC Vegas 82 fight card.
Brendan Allen is riding a five-fight winning streak heading into UFC Vegas 82. The betting favorite in this matchup, Allen is the No. 10 fighter in the official UFC middleweight rankings. The 27-year-old is coming off a first-round submission win over Bruno Silva in June.
Paul Craig dropped from light heavyweight to middleweight earlier this year, and the 35-year-old made some noise in that contest, scoring a "Performance of the Night" bonus for his second-round submission victory over Andre Muniz. Craig is the No. 13 fighter in the UFC's middleweight division.
Before we look at the best bets for the Brendan Allen vs. Paul Craig matchup at UFC Vegas 82, check out the best UFC betting sites and where you can find the best odds on all the UFC fights.
UFC Vegas 82 main event: Brendan Allen vs. Paul Craig betting picks
UFC Vegas 82 main event: Brendan Allen vs. Paul Craig betting breakdown
Brendan Allen was on a three-fight winning streak before he scored an upset win over Andre Muniz at UFC Vegas 70. That victory moved the formerly unranked fighter into the top 15 of the UFC's middleweight division. His June victory over Bruno Silva secured his spot in the top 10. Allen is one of the best technical grapplers at 185 pounds. During his time rising through the ranks, Allen, who joined the UFC in 2019, was knocked for his lack of striking skills. By working with Henri Hooft, Allen has shored up his striking game and become a well-rounded MMA fighter. Allen has five career wins by knockout, 13 submission victories, and four decisions. His two losses both came under the UFC banner. Sean Strickland and Chris Curtis both knocked him out. He is unbeaten since December 2021.
Paul Craig moved to middleweight in June 2023. The UFC veteran, Craig who has been with the promotion since 2016, was a +190 betting underdog to Andre Muniz in that scrap. Craig pulled off the upset, scoring a second-round TKO win over the betting favorite in that matchup. The win moved Craig right into the top 15 of the middleweight division. Like Allen, Craig is best known for his grappling. He is slick on the ground, picking up 13 career submission wins. Unlike Allen, who has developed his striking, Craig relies on his ground game above all else. That could be a risky proposition in this matchup.
UFC Vegas 82 main event: Brendan Allen vs. Paul Craig statistical breakdown
Brendan Allen is the more active and accurate striker heading into his scrap opposite Paul Craig. Allen lands 3.96 significant strikes per minute as compared to Craig's 2.57, and Allen's landing rate of 53 percent is higher than Craig's 46 percent. Craig has an advantage in defensive striking numbers, getting hit 2.85 times per minutes, where Allen gets tagged on average 3.89 times per minute. However, both men have a 46 percent defensive striking rate.
The grappling numbers are interesting in this matchup. Allen lands an average of 1.22 takedowns per 15 minutes, while Craig sticks 1.91 takedowns per 15 minutes. However, Allen has more success with his takedown attempts, completing 42 percent of his attempts, whereas Craig scores on just 23 percent of his takedown attempts. Allen is better at takedown defense at 55 percent vs. 42 percent. As for submission attempts, these two are close in that category, with Allen attempting 1.6 subs per 15 minutes and Craig going for 1.7 per 15 minutes.
Best Bets: UFC Vegas 82 main event: Brendan Allen vs. Paul Craig
When two high-level grapplers face off, we often see the fight stay on the feet. I believe that betting favorite Brendan Allen will do whatever he can to keep this fight standing. Allen has become comfortable in his striking, he only attempted a single takedown against Muniz, and that came in the third round.
Another thing to look at is the fact that Paul Craig has never won a fight that has gone the distance, and I expect Allen to look to test Craig's cardio at middleweight.
Craig is a live underdog in this fight, but he has fewer paths to victory than Allen does. With that, my betting pick is Brendan Allen to win via a knockout in the second half of the fight or via decision.
Best UFC Vegas 82 Main Event Betting Pick: Brendan Allen to beat Paul Craig via knockout. 
See below a list of reliable sportsbooks and choose the best one for you.