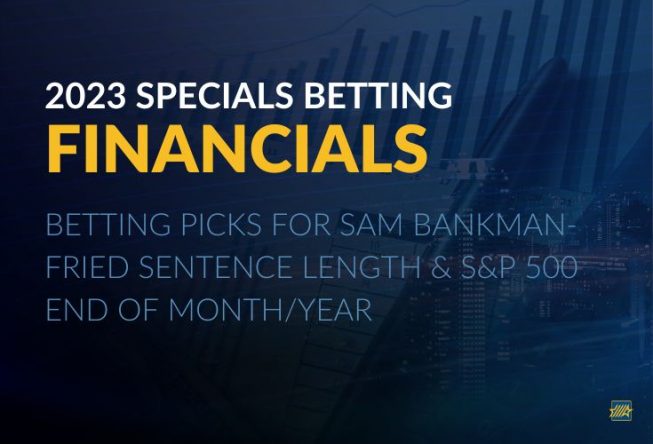 When exploring sportsbooks, it's crucial to evaluate the available options thoroughly. Uncovering distinctive financial markets that provide exclusive opportunities for placing bets can be intriguing.
We want to remind you that the best way to ensure you have all the necessary information before placing any bet is to check out the best sportsbook reviews.
It's essential to emphasize the importance of conducting thorough research before placing any bets, and one way to do this is by consulting the top sportsbook reviews.
For example, on BetOnline.com, you can participate in betting on the prices of stock shares, enabling you to profit from the stock market without purchasing any shares.
Let's delve into some of the more unconventional markets available.
Length of Sam Bankman-Fried Sentence?
The first unique market I want to explore is the sentence length for Sam Bankman-Fried.
After Bankman-Fried was found guilty of all seven criminal counts against him, the speculation on how long his prison sentence will be began.
Oddsmakers believe the sentence will be around 60 years. They've placed a price of -400 for under 60.5 years. The implied probability of -400 odds is 80%!
Some have even speculated that Bankman-Fried could face a sentence of over 100 years.
He is 31, so I don't think anything drastic, like a 100-year sentence, will be handed down.
Unfortunately, I must agree with the oddsmakers because 60 years feels too harsh.
How Sam Bankman-Fried's Possible 110 Year Sentence Stacks Up Against Other Ex-Billionaires And Billionaires Who've Served Time https://t.co/0qKfvQdlxn

— Forbes (@Forbes) November 7, 2023
I recommend betting under 60.5 years at -400 odds. I could see Bankman-Fried being handed a sentence of 50-60 years, finishing just under that total.
Those odds are very tempting at +280, but it only indicates an implied probability of 26%, which feels low.
I believe oddsmakers are spot on with this line, so I recommend betting on Under 60.5 years at -400 odds at Betonline.
S & P 500 (Nov 30th)
The S&P 500, often called the Standard and Poor's 500, functions as an index designed to monitor the performance of 500 leading companies listed on different stock exchanges throughout the United States.
This index holds a prominent position as one of the most closely observed indicators of equity market performance.
Bookmakers have established the over/under for the total at $4499.50, with -120 odds for the over.
As of this writing, the S&P is at $4499.50, clearly over that total. Taking a closer look at the past month, the S&P has increased by more than $120!
The current odds seem to be underestimating the value of the S&P 500. Based on the data analysis, I would suggest considering placing a bet on the over $4499.50 by the end of November, with -130 odds on BetOnline.
Several websites are available for you to wager with; you can even choose to use the newest form of funds transfer, cryptocurrency. We have a list of the best betting sites that accept cryptocurrency as a payment method.
S & P 500 (End of Year)
We can also look at what oddsmakers believe the S&P 500 will perform by the end of the year.
The odds have shifted, but the price has significantly increased to $4495.70, exceeding the S&P 500's average for most of the year.
Predicting the future trajectory of the S&P 500 can take time, given the multitude of conflicting projections and estimates.
The diverse opinions surrounding the performance of the S&P 500 in the upcoming months make it a complex situation to navigate.
The S&P 500 will finish at 4,600 by year-end and at an all-time high of 5,400 by the end of 2024 says Ed Yardeni pic.twitter.com/NZU9nRT9Vr

— Barchart (@Barchart) November 14, 2023
Before placing bets on any event, we advise you to check out the top sportsbook bonuses available, which can be used to double your initial bankroll.
Bonus

125% Sports Bonus - up to $2,500