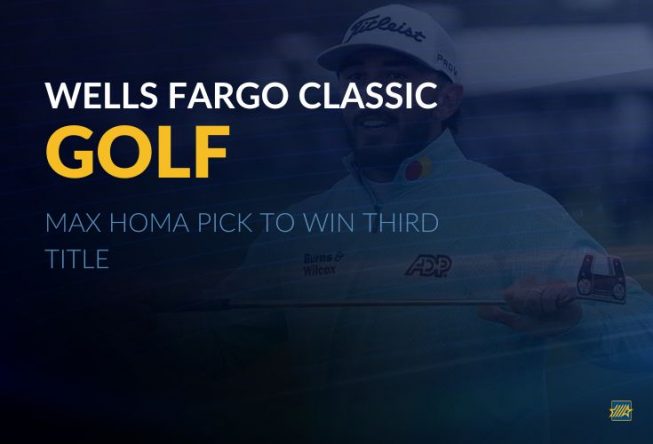 The 2023 Golf season rolls into may with another big money tournament. The Wells Fargo Classic comes from Quail Hollow Golf Course in Charlotte, North Carolina. Can Rory McIlroy regain his pre-Masters form? Who may be worth further looks in Wells Fargo Golf Bets come this weekend?
Naturally, the best online betting sportsbooks updated their odds early this week on who could win this event. Below, we map out some picks and maybe one or two that could make a weekend run. The action gets going early Thursday morning.
WHAT: Wells Fargo Classic
WHEN: From Thursday, May 4th – Sunday, May 7th, 2023
WHERE: Charlotte, North Carolina – Quail Hollow Golf Course
Wells Fargo Golf Bets – Some Good Weather News
Alright, this week's Wells Fargo Golf Bets from Charlotte has some good weather news too. Most places again focus on the golfers and the course. Now, this week mostly allows us to do so. Only Saturday morning is expected to see some possible inclement weather. There is hope that all four afternoons could feature decent conditions and good scoring. May can be a nasty month and feature thunderstorms and worse. Fortunately, mild temperatures are in the offing.
Furthermore, Rory McIlroy graces the Carolina golf course this week. Since The Masters, the Northern Irish golfer kept a relatively low profile and did not play in the RBC Heritage which surprised some people. Then again, Jason Day withdrew from that event as well. It has been almost four weeks since we have seen McIlroy on this side of the pond.
🚨🏆 3x @WellsFargoGolf Champion Rory McIlroy was 41-under-par with zero bogeys on par 5s from 2014-2018! He looks for another big week. Follow @TrackingRory for full tracking!pic.twitter.com/J6fWguKpLW

— NUCLR GOLF STATS (@NUCLRGOLFSTATS) May 1, 2023
The McIlroy debate could again be one that gets talked about. Now, with him playing and Jon Rahm taking the week off is significant. McIlroy has won here three times before and is quite the favorite this week at around +750. Does anyone else stand a chance or better chance of winning in Charlotte come Sunday evening?
Max Homa – Wells Fargo Bets Best Choice?
So, instead of the dead obvious favorite, why not take a look at a possible winner who won the tournament only last year?. Is Max Homa a Wells Fargo Golf Bets Best Choice for this weekend? That is simple. With a mixed bag of  tournaments the next month, betting a little more courageous this week is not a bad idea. This PGA tournament schedule still takes getting used to. There is still two weeks between now and the PGA Championship. It is a good week to show great form.
After all, this course suits Homa quite well. Most pundits forget that the American golfer has won this event twice. Two years ago he won by two strokes. In 2019, Homa beat out Joel Dahman by three strokes in an easy Sunday effort. Granted, no one can beat the McIlroy blitzing of the field in 2015, but Homa is one of those few golfers who can go toe-to-toe against the guy from across the pond and win. .
For Charlotte, Homa is in the +2200 to +2500 range a good ways from the top three contenders. His strokes gained tops all golfers in his last three trips to Charlotte at more than 1.9. Furthermore, Homa struggled a bit since the weekend at The Masters, but he has six top ten results and two wins in 2022-23. It only takes a familiar course to right things back in order quickly. The same argument for McIlroy and others can be used for Homa here.
Players ranked inside the top-10 on the PGA Tour this season in both strokes gained approach and strokes gained putting:

Jon Rahm
Max Homa

— Justin Ray (@JustinRayGolf) May 1, 2023
So, Homa ranks third in the FedEx Standings and seventh in the world. His numbers look great and again his touch and feel on the Charlotte course is well documented. Naturally, we believe a third title is indeed quite possible for the American who putts as well as anyone on the weekend. Simply, his value is quite high here considering the circumstances.
Wells Fargo Golf Bets Ups The Purse And Contenders
Wells Fargo Classic Golf Bets ups the purse and naturally the contenders too. By the way, no one has repeated as champion in its current form (since 2003). There is not as much variety in this tournament but two of the best have won a combined five championships here (McIlroy and Homa). Matt Fitzpatrick and Cameron Young possess games to get it done this weekend and did finish in a tie for second last year behind the aforementioned Homa.
Some remarked about Jordan Spieth. Spieth finished second and the RBC Heritage and fourth at The Masters. He again lurks in the +1800 to +2000 range. Many get intrigued by the fact that the American enjoyed some rest the past couple of weeks. He can make a big push at a tournament which suits him if he gets his putter going early.
This tournament points out that course specialists are again a good approach. Hence, that is why some like players like Keegan Bradley, Fitzpatrick, Young, and Spieth. They can all hit the ball pretty long but accurate enough. Add in some timely putting and these are dangerous golfers heading into the weekend.
Jordan Spieth (Mental Health) is coming off the injury report this week. He recently spoke about being mentally fatigued and playing too much golf.

He finished 2nd at the RBC Heritage to Matt Fitzpatrick and has taken next two weeks off.#wellsfargochampionship #WellsFargoGolf…

— GOLF INJURY REPORT (@InjuryReportPGA) May 1, 2023
Looking ahead to this weekend, Spieth, Fitzpatrick, McIlroy, Bradley, and several others could make for quite a leaderboard. With the $20,000,000 purse and quite a few rested golfers, expect a lot of fireworks and most importantly good weather. If pace of play is suitable, there is a scenario where Fitzpatrick could best Spieth and the others once again.
Other Fun Wells Fargo Bets
There are other fun Wells Fargo Golf Bets. Tony Finau remains tempting and so does Viktor Hovland, but how about Keegan Bradley? Bradley likes the course and again finishes well there.
Betting More Golf This Weekend?
Hey, are you betting more golf this weekend?
Then, check out some excellent online golf betting sites that are a boost and remember these handy sportsbook sign-up bonuses.
[/viscawebTable]